Nashville Brunch/Lunch Menu
Daily 10a-3p
HOLD THE HANGOVER BOWL*
scrambled eggs, biscuit, cheddar, chopped bacon & country gravy, roasted potatoes
DRUNKEN WAFFLES
traditional waffle with macerated "tipsy" berries, brandy flambé, Bailey's whipped cream
AMERICAN SKILLET*
bacon, bell peppers, onions, cheddar, served sizzling with roasted potatoes, country gravy, & topped with two fried eggs
IRISH SKILLET*
corned beef, sauerkraut, swiss, served sizzling with roasted potatoes, country gravy, & topped with two fried eggs
AMERICAN BREAKFAST*
scrambled eggs, bacon, roasted potatoes, fresh fruit and biscuit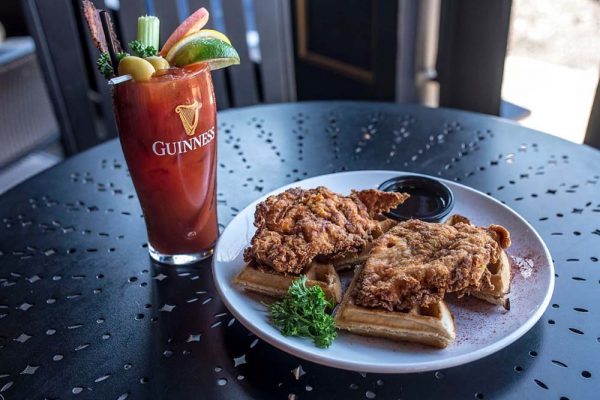 BRITISH BREAKFAST*
scrambled eggs, banger, tomatoes & mushrooms, baked beans, English muffin
BUTTERMILK FRIED CHICKEN & BISCUITS
fried chicken breasts, two biscuits with house-made country gravy
BREAD PUDDING FRENCH TOAST
cinnamon raisin bread, layered with caramel, sprinkled with powdered sugar, maple syrup on the  side & fresh fruit
THE CURE*
pretzel bun topped with two fried eggs over easy, bacon or ham, Belhaven beer cheese, Tabasco onion straws, roasted potatoes. Just Like Heaven.
BREAKFAST BURRITO*
scrambled eggs, bacon, peppers, onions, roasted potatoes & cheddar in a flour tortilla, spicy dill,  with spring mixed greens
TRADITIONAL CHICKEN & WAFFLES
buttermilk fried chicken on a waffle, with maple syrup
NASHVILLE CHICKEN & WAFFLES
buttermilk fried chicken with Nashville hot spice on a waffle, with Tennessee syrup
Awarded
BEST FISH & CHIPS in the U.S.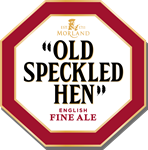 our award-winning, beer-battered haddock, house-made tartar sauce, & creamy cole slaw
MAINSTAYS
From Both Sides of the Pond
SHEPHERD'S PIE
lamb, beef, bordelaise, peas & carrots, smashed potatoes, mozzarella, parmesan bread crumbs, accent salad
BANGERS & MASH
char-grilled sausages, Old Speckled Hen Ale onion gravy, smashed potatoes, peas & carrots,
accent salad
GRILLED SALMON*
roasted yukon gold potatoes, broccoli, rosemary mustard cream sauce
BELHAVEN BEER CHEESE
sharp cheddar, Belhaven Scottish Ale, warm pretzels, fresh veggies
SPINACH & ARTICHOKE DIP
blended with mozzarella & parmesan, served with naan bread
GOAT CHEESE DIP
warm blend of herbs, marinara, topped with toasted almonds, served with naan bread
SCOTCH EGG
delicately boiled egg wrapped in sausage & parmesan bread crumbs, served with spicy pub mustard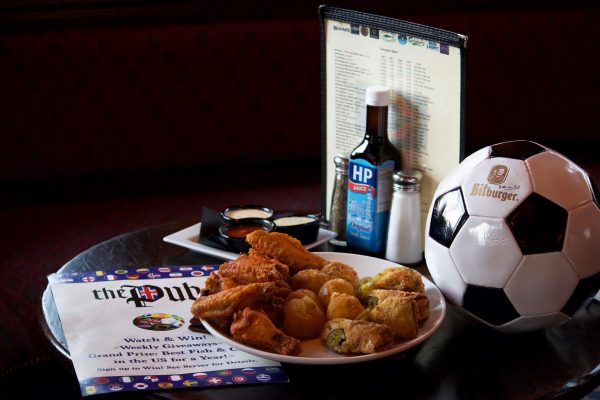 BACON-WRAPPED DATES
Medjool dates filled with creamy goat cheese, served with red pepper aioli
PUB SPRING ROLL
pulled chicken, white cheddar, black bean, cilantro, jalapeño, spicy dill
NASHVILLE HOT CHICKEN SLIDERS
on biscuits with pickles & side of honey
CHEESE "BOLLOCKS"
breaded mozzarella & provolone, marinara…never mind the bollocks
WINGS
TRADITIONAL 12 | BONELESS 10
Sauces: buffalo | sweet chili | yellow curry | Maker's Mark BBQ | Young's Double Chocolate Stout BBQ
SOUP & GREENS
Daily Featured Soup     Cup 3.5 | Bowl 5
HAIL, CAESAR!
chopped romaine, parmesan, garlic croutons, Caesar dressing
SPINACH BERRY
baby spinach, blueberries, candied spiced pecans, red onion, goat cheese, house-made  mustard vinaigrette
CHICKEN CRANBERRY PECAN
lettuce blend, cranberries, mandarin oranges, red onion, candied spiced pecans, blue cheese, orange-cranberry splash dressing
ADD PROTEIN
ADD: GRILLED CHICKEN 5 | GRILLED SALMON* 8 | STEAK* 7.5 | CALAMARI 6
THE ROYAL COUPLE
Choose 2 From the Following For 11
DAILY FEATURED BOWL of SOUP
SANDWICH
FISH SLIDER | GRILLED CHEESE
1/2 REUBEN | 1/2 CHICKEN SALAD WRAP
SALAD
SPINACH BERRY | CAESAR
CHOPPED WEDGE
BRILLIANT BURGERS
With Fried Pickle & British Chips
BREAKFAST BURGER*
8 oz. beef, ham, swiss, fried egg, lettuce, tomato, brioche bun
PUB CLASSIC*
8 oz. beef, lettuce, tomato, onion, brioche bun
YOUNG'S BBQ*
8 oz. beef, cheddar cheese, Young's Double Chocolate Stout BBQ , Guinness onions, maple pepper bacon, brioche bun
ROYAL TURKEY
seasoned ground turkey, white cheddar, cranberry-apple chutney, brioche bun
THE BELHAVEN*
8 oz. beef, Belhaven beer cheese, crispy fried onions, pretzel bun
BLIMEY!*
8 oz. beef, spicy pimento cheese, roasted red peppers, fried jalapeños, brioche bun
THE MEDITERRANEAN
savory spiced ground lamb with onions & rosemary, tzatziki, lettuce, tomato, ciabatta roll
PUB SANDWICHES
With Our Signature British Chips
THE COTSWOLD
marinated grilled chicken breast, balsamic red peppers, swiss, maple pepper bacon, basil pesto
mayo, ciabatta roll
CRISPY CHICKEN
buttermilk fried chicken, maple pepper bacon, swiss, lettuce, tomato, spicy dill, ciabatta roll
FISH & BUN
haddock served beer-battered, sautéed or broiled, lettuce, tomato, onion, house-made tartar sauce, brioche bun
CORNED BEEF REUBEN
sauerkraut, swiss, thousand island on marble rye
HOT HAM & SWISS
Guinness onions, pub mustard, pretzel bun
WELSH DIP
thinly sliced prime rib, sautéed green peppers & onions, mozzarella & provolone with rich au jus, pretzel bun
SIDES
3 Each or Choose a Trio For 8.5
CRISPS | SWEET POTATO FRIES | BROCCOLI | VEGGIE OF THE DAY | COLE SLAW | SMASHED POTATOES | PEAS & CARROTS | BRITISH CHIPS | ROASTED POTATOES | GOUDA MAC | ACCENT SALAD
*Consuming raw or undercooked meat or fish may pose an increased risk of food-borne illness

 = The Pub's signature items